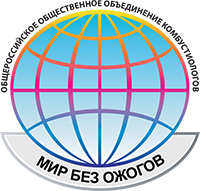 ALL-RUSSIAN PUBLIC ORGANIZATION
ASSOCIATION KOMBUSTIOLOGOV
"WORLD WITHOUT BURNS"
Certificate on the state registration No. 1117799009327 of 24.05.2011
Dear friends and colleagues!
| | |
| --- | --- |
| | With New 2018! |
Bringing total the year leaving there is a wish to thank all for work on fronts of Combustiology. Our meeting at the International conference "Thermal Defeats and Their Consequences" and V a congress of kombustiolog of Russia in Moscow (a video about a conference) became one of the main events of 2017. We discussed topical issues of the organization and delivery of health care, an order of delivery of health care by the victim of burns, standardization and updatings of clinical recommendations. All accepted documents are sent to the Russian Ministry of Health and will become a basis for the relevant decisions. Active part in this conference was taken by our colleagues from the Republics Belarus, Moldova, Armenia, Kazakhstan, Uzbekistan, Kyrgyzstan and Tajikistan and also Poland, Germany of Greece and China. Thank them for cooperation!!!
Training of specialists on a profile surgery (Combustiology) is still important. Our department of thermal defeats, wounds and a wound infection of RMANPO and next year planned professional development cycles within continuous medical education (the schedule of cycles).
Association of kombustiolog "The world without burns" also continues the educational programs in regions focused, first of all, on the doctors of a surgical profile helping victims of burns.
There comes New 2018!
The capricious and obstinate Red Fiery Rooster will hand over the reins to the Yellow Earth Dog.
Its main qualities are a nobility, sincerity, honesty, responsibility and friendliness. It is considered that is with it steadiness, internal rest and an order will come to the 2018th.
In spite of the fact that the Dog in the 2018th Yellow – mountains of gold from it you shouldn't wait. And in order that this year became fruitful, it is necessary to work! That 2018 brought us happiness, love, and all benefits, it is necessary to remember several rules: not to bark on trifles, not to bite, trust people and not to growl, and to resolve issues diplomatically and patiently. Then the hostess of year, joyfully screaming, will fall before us to a back, and our life will be not dog.
Let 2018 will become year of grandiose meetings and fantastic undertakings, year of birth of a dream which will by all means be executed!
Start up a symbol of this year will preserve from misfortunes, will frighten off all troubles, will heal all sincere wounds and will bring with itself only the best! Let your relatives and dear people will be always healthy and happy, and our friendship also will be farther than the same strong.
We wish you in new year of real dog "scent" in affairs, achievements in everything, wellbeing, light and cloudless days, a cosiness, heat, the world and good in our general house!
Prior to a meeting in New year!
Designed by Website to order